Acucups® cupping technique engages decompression, or negative pressure, rather than tissue compression.
The cups do not need the traditional firing; this has made the application of Acucups® more easy and safe. They have a great penetrating effect and excellent drawing strength. This has not only improved efficiency but also simplified the procedures of cupping therapy.
When pressed,
Acucups® change their shape and are then placed on skin. When the pressure is released, the deformed cup regains its normal shape which leads to
negative pressure in the cup, which creates suction.
This negative pressure lifts up underlying tissue instead of pressing down on it, as is usually done in massage - this makes it an excellent therapy for fibromyalgia patients.
Advantages of using Acucups® :
· Very safe, no fire needed – no burns!
· Do not impede movement; can be used while on the go
· Very light, won't shatter
· Nest within themselves; can be easily taken while traveling
· Durable, long use and easy care
· Easily change shape and make it possible to control suction
· Very flexible; can be applied onver semi hairy areas, joints, elbows, knees, hands, feet, etc.
· Silicone cups can be used in water and withstand extreme heat (can be boiled)
Besides being voted as the

best deep tissue massage

,

Acucups®

can also be used to trigger acupoints, relieving any conditions or pain symptoms such as:

abscesses, arteriosclerosis, arthritis, asthma, boils, bruises, common cold, chills, dental pain, gastric disorders, hemorrhoids, high blood pressure, hypertension, flu, insomnia, chest pains, migraine, motion sickness, paralysis, muscle & joint pain, prostate, rheumatism, sciatica, stiff shoulders, stroke, tinnitus, vertigo,

etc

.
For the Practitioner
The deep, soft-tissue therapy that Acucups® provide, allows you to avoid the physical strain that statistically results in career-ending injuries.

Exertion on your shoulders, back, arms, wrists, hands and thumbs takes its toll.

Acucups® help you do what you already do, but without the aches, pain and fatigue.

Acucups® can actually work deeper into tissue than is possible with manual treatment. You will lessen your occupational risk and increase your satisfaction as well.

Acucups® is a proud sponsor of Injury Prevention and Ergonomics Solutions for Manual Therapists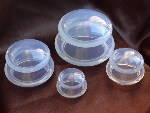 © 2016 Premium Remedy Inc. All rights reserved.
DISCLAIMER: This website is for information only and is not intended for use as a substitute for medical advice, diagnosis or treatment of any medical condition. Any question about your health should be addressed with your health care provider.